What Is Affiliate Marketing and How Does It Work?
Everyone wants to make money, doesn't it?
Imagine setting up a website, adding a few links to it, and boom, you start making some money out of it the next day. Isn't it amazing?
So come today, we will introduce you to that kind of way by which you can make some passive money out of it. It's affiliate marketing. You have heard about it as it has become a very well-known way of earning money nowadays while sitting at home. So now the question comes: what is affiliate marketing?
QUICK LINKS
What Is Affiliate Marketing?
Affiliate marketing is how an affiliate earns money (commission) on the company's products. Affiliates are the people who promote other companies' products and get a commission on every sale via affiliate links. The sales are tracked via affiliated links only.
Who Makes An Affiliate Market?
Affiliate markets are composed of companies that sell a product or service. It includes industries like retail, direct-to-consumer, financial services, travel services, gaming, marketplaces, B2B, etc.
Affiliates (Publishers or Partners)
Bloggers, social media posters, shopping sites, product review websites, and reward websites are all affiliates because they promote products and earn money through affiliate links.
Affiliate Agencies
These agencies manage the work and programmes on behalf of big brands and companies. They manage everything, like partner recruiting, optimization, partner relationships with companies, etc. Affiliate Agencies work on the technology needs of the affiliate networks' and SaaS platforms' affiliate programs.
Affiliate Networks
The affiliate program handles all the tracking and payment work in affiliate marketing. Affiliate marketers compose the network, which provides whole service management. They also give access to the brand to the affiliates who want to join their network willingly.
Platforms for Software as a Service (SaaS)
The SaaS platform manages all companies' tracking and payment data .They only focus on the technical work of affiliate marketing.
Customers
Customers are the audience that affiliates try to influence to buy the product by reading their blog posts or articles; they add affiliate links in between their blog posts and articles and videos.
How It's Works ?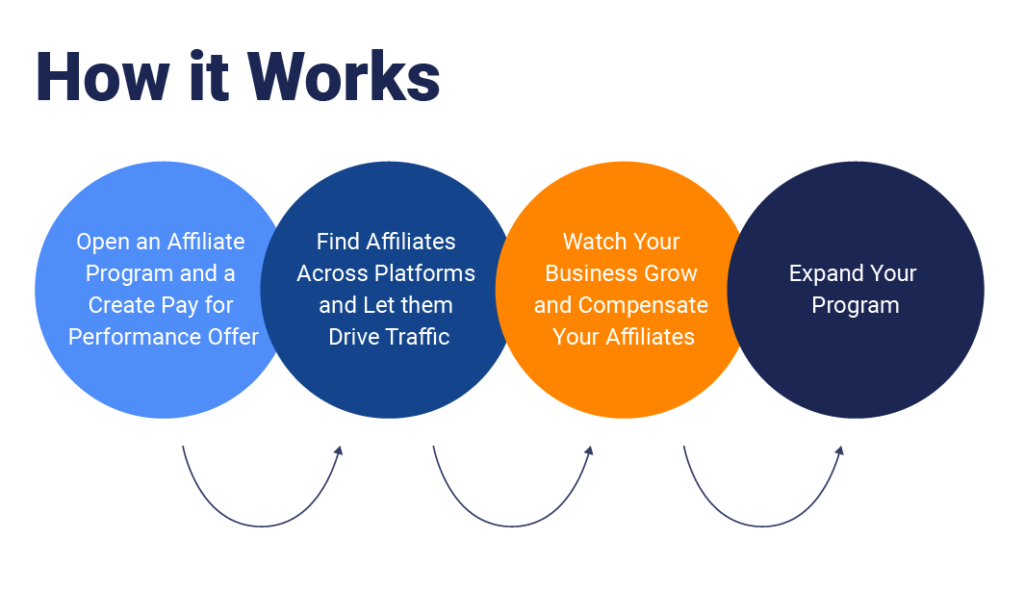 How Does Affiliate Marketing Work?
Affiliate marketing includes all the sources that spread the product's reviews and knowledge about the particular product and try to influence people to buy it through the source they provide underneath their post or blog post.
Sellers and Product Creators.
The sellers are the people in affiliate marketing who insist on selling their own companies' products through the affiliate market. They ask affiliates and bloggers to promote their products and increase their sales.
Affiliate or Publisher.
As I mentioned before, affiliates can be a company or a single person who tries to influence people through product reviews in the form of videos, blog posts, and articles to buy a particular product.
The Consumer
Consumers are the ones who are the source of income for the affiliates. Consumers are the audience who get influenced by the affiliates' videos and blog posts and make a purchase through affiliate links.
How Do Affiliate Marketers Get Paid?
Now the question comes: what's the proper process by which affiliates get paid? Here are the various ways in which affiliates get paid:
Paid Per Sale (PPS)
Pay per sale is an online pricing system where the website owner, publishers, or affiliates get paid when an audience (readers) makes purchases directly after getting influenced by the advertisement or post.
Pay Per Lead (PPL)
Pay per lead is an online marketing payment system by which affiliates get paid for generating leads following the given criteria, also known as an affiliate agreement set by the publisher only. The lead is rated through its quality.
Pay Per Click (PPC)
A pay-per-click system pays the affiliates when a publisher gets paid by the advertiser after every click made on the advertisement by the audience.
Affiliate marketing is a modern, inexpensive way of making passive income while sitting at home. If you are just starting it up, I hope the article was helpful for you, as we have mentioned all the essential things in the articles that are important to know before stepping out in the affiliate marketing field.
You may also like
About Author
Kushbu is the founder of Contentforyou.in. She is a professional content writer and blogger. With more than 5 years experience in this field, she is expert in Articles & Blogs, Website Content Writing, Branding Content, Technical Writing, Copywriting and Academic Writing Services.

Instagram


Twitter


Youtube


Pinterest


Linkedin


Tumblr


Reddit


Medium

SHARING IS CARING !