What is a Landing Page and Why it is Important
Being a fresher in this digital marketing world, I have to learn many new words and vocabulary that I had never heard earlier. One such sort of word is 'Landing Page.' This word landing page sound very easy to do but let me tell you, this is one of the most crucial for any digital marketing strategy. It not only leads to conversion; moreover, this page convinces the potential customers.
So first, let's get to know what is a landing page means:
Landing Page
A landing page refers to a standalone page for any marketing website, where the customer or visitors first enter when they click into the following link of your website. Here they need to do some necessary steps to go further on the website, like giving their details or purchasing a product or ebook. A landing page is different from the homepage or any other web page. This page, by click-through, leads the customers to the leading e-commerce site or your main website page.
A landing page is one of the essential parts of digital marketing, and it leads to highly targeted traffic from social media and email. Many great digital marketers made multiple landing pages for their customers to get a substantial targeted segment of customers.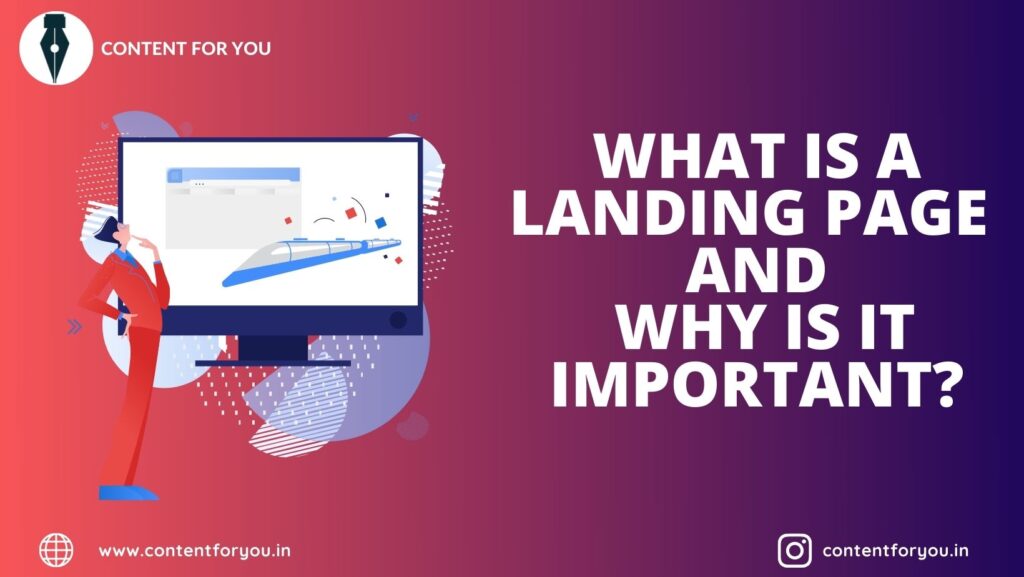 QUICK LINKS
Different Types of Landing Page
There are many kinds of landing pages you find on the Internet, but I discuss the most important ones. Every landing page has its specific duties that need to be done. So let's get to know more about these landing pages.
Squeeze Landing Pages
This is one of the most commonly used landing pages. A maximum number of websites has squeezed landing pages. Hereafter clicking, people need to share the email address. Squeeze landing pages are not like the other landing pages here. You don't need to buy or share personal details. The only thing to share on the squeeze landing page is the email address. This landing page is shorter than the regular ones and does not have many things. This page is short and built and doesn't contain many pictures or words.
Splash Landing Pages
Splash landing pages are not like the other landing pages. It doesn't ask the customers to buy anything. After clicking, visitors enter a splash page where they need to answer simple questions like their language choice, age, or making any announcement from the marketer. This landing page does not sell anything or lead to any conversion. Instead, it builds out of a marketing strategy to announce something or give the visitors some preferences for seeing the page.
Sales Landing Pages
A sales landing page is one of the most challenging landing pages to build. This type of page, unlike the other runners not just ask your email address or any preferences; instead, it, in its first attempt try to sell any product, which is a hard step, as many people don't want to purchase at the first visit of any page. Sales pages can be shorter or longer, depending on marketers, but here one can find a brief description of the product so that people get to indulge in it. To make a sales landing page, the marketer needs to be experienced with the customer's choice.
Referral Landing Pages
Referral landing pages are built for those loyal customers who refer your page to their friends and family, and by doing this act, they get some referral code or discounts. This type of page encourages the customer to buy and refer more. Here loyal customers are very much praised, so they are convinced to purchase and refer repeatedly.
Lead Capture Landing Pages
A lead capture landing page is one of marketers' most commonly used landing pages. This page stands in between the squeeze and sales landing page. Here customers need to fill a form with all their personal information. And by using this landing page, one can get any information about their customers, which will help the marketers know their customers or visitors better and get a good conversion.
Importance Of Landing Page
Increase Conversion
The main aim of building a landing page is to increase the conversion rate. This is the foremost reason for using a landing page. When customers share their details on a landing page, they are interested in knowing more about your website, so here starts the opportunity to get the targeted audience and increase traffic on the website.
It Gives More Insights To The Target Audience
As I mentioned earlier, many brands use more than one landing page, so they know which marketing sector leads more traffic, and marketers are well aware of customers' preferences. For instance, suppose most of your conversion came from social media. The next time you make a marketing campaign strategy, you automatically give a social media campaign more strength. Marketers get enough information about their potential visitors, so they move on likewise.
Increase The Emails Subscribers
By using the squeeze landing page, marketers get the email of their targeted audience. So they look after it later, one gets many email addresses of customers. In exchange, you can give a free ebook or content to your customers to get to know more about the website and product for their further steps of action.
Landing Pages Are Experimental
Landing pages are sometimes experimental to be more creative and test the new designs for websites. When customers fill the area of their preferences, they get to know what their customers want from you. And then the marketers work on it in the future accordingly. Using different landing pages can drive huge leads to their website.
It Improved Brand Values And Made A Great Impression
By using a well-decorated and quality content landing page, one can not only get traffic further they improve their brand value and make an impression on their customers. This is where customers know the fundamental motif and your offerings as a good marketer.
Concludes
As a digital marketer, if one wants to get more conversion, I can suggest landing pages are what you need to work on. It can give you a huge targeted audience also. You get to know your potential customers better. Also, I suggest making more than one landing page to get a clear view of your audiences
You may also like
About Author
Kushbu is the founder of Contentforyou.in. She is a professional content writer and blogger. With more than 5 years experience in this field, she is expert in Articles & Blogs, Website Content Writing, Branding Content, Technical Writing, Copywriting and Academic Writing Services.

Instagram


Twitter


Youtube


Pinterest


Linkedin


Tumblr


Reddit


Medium

SHARING IS CARING !