16 Google my business Tips you absolutely must try in 2022
Today when there is so much competition in every business, one needs to optimize their business through Google Ads and websites. But the fact that many people are unknown is there is an extra option, i.e., Google Business, which also needs optimization. This is one of the most powerful listings highlighting the best features and getting potential clients from here.
Benefits of Using Google My Business
According to a survey of over 167 billion searches performed each month, an unoptimized business account gets an average of 1260 views by this period, which is 0.00000075% out of all searches. This is not the problem with Google's business accounts. It's because of unoptimized accounts that need to be optimized and completed.
QUICK LINKS
Here are the benefits of GMB:
1. Google My Business is free
The main benefit of Google Account is it's free of cost. Today when everything is so costly, Google provides a platform to promote businesses free of costs. So one doesn't need to worry about it.
2. Get Potential Customers
one can get potential customers from here. As you can provide everything about your business if people find the account helpful according to their preferences, many genuine customers prevail over your business.
3. Help to Review Your Business
One of the best benefits of Google Business is its review feature, which helps people to know about any local business profoundly.
4. Highlights the Best Features
One can highlight the best features of their business through a Google My Business account
5. Improve Engagement
GMB improvised the engagement between buyers and sellers through many options, which helps make their business run high.
6. Gear up Local Ranking
Another benefit of GMB is it considers proximity and relevance along with quality and activity. By optimizing the Google Business account, these things are sent to Google to rank your business higher than the other local businesses.
Tips for Google My Business account
1. Make a Google My Business account
The first thing which needs to be known is Google My Business account, and Google Business profile are two different things. Google Business profile is used to gain access to and optimize the Google My Business account. So one first needs to make a Google My Business account, then connect to Google's business profile.
To create a Google business account, one needs to visit –
Google.com
Business and sign in with regular Google
Put a Gmail account, here I suggest preferring a different Gmail from a personal Gmail account.
2. Complete the details of Google My Business
After reaching the site, one needs to complete every section of the Google My Business account. So that it will help to rank higher from competitors and increase the number of actions customers can take. Here I present some guidelines which one needs to fulfill to complete their Google My Business account:
Name
Address
Phone Number
Website
Hours
The following section needs a little bit of time to complete
Category and attributes
Products and Services
From the business
Question and Answers
Another section is:
Posts
Reviews
Question and answer(customer-generated)
3. Specify the category
Specifying a particular category is a must-do thing for Google My Business account. It helps someone to get found in discovery searches. Discovery searches refer to the consumer's searches for a specific product, service, or category term. 84% of views are coming from these discovery searches.
The next advantage of making a categorical account is once someone selects a category for their business account, Google makes available a category-specific feature for that account. It also makes the profile look professional, elegant, and beautiful.
4. Write a good description
The description is an important part of the Google Business account. If one can give a good description for their business, it will help them attract new customers and get high in the ranking.
5. Add pictures
Adding pictures to the Google My Business account ensure three things which are:
Adding photos to Google's business account ensures the account is active and up to date to Google, which greatly impacts the business profile.
Many people take pictures from the internet and submit them here, but if you use the images of your products, it will be more helpful for the business account.
The advancement of Google image recognition helps showcase someone's business photos in local results.
So after knowing the advantages, no need to hurry to add a pile of images at once. It doesn't help. You need to update images every week to be updated.
6. Get Reviews
In online businesses, people prefer to choose the one with the most reviews. On reviews, many things depend on it. When one enhances the review option, new customers get to know what the others think about it and their experiences. This will help you to make a great impact on potential customers.
7. Maintain the Business Account Continually
Just making a Google My Business account is not enough. It needs to be maintained thoroughly from time to time. So Google gets to know that the business account is active and updated. One need to update the account every week
How to Increase Google My Business Reviews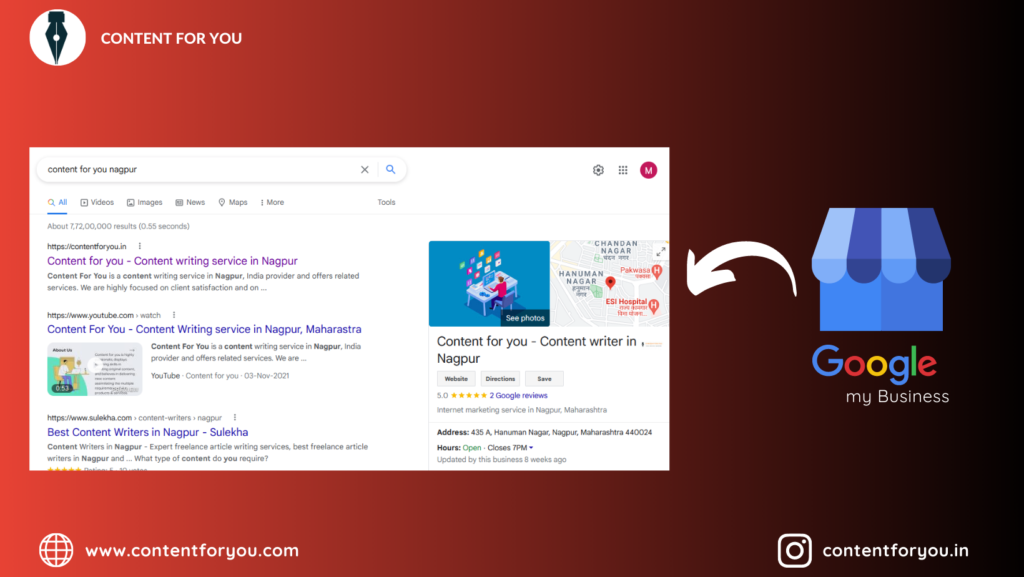 Till now, I hope I have described the importance of the Google My Business account. The most important thing for this business account is the customers' reviews. As per online businesses, people are lean-to those who have more reviews. It will help them know the impacts on the previous customers.
Let's know the tips for increasing reviews on your account.
1. Be Active
Don't just stop after making a Google My Business account, and you need to be active in your Google Business account and start interacting with your customers by using Google rates and reviews.
2. Connect to The Customers
By using Google rates and reviews and answering the question of your customers, you can be able to connect with them. Google My Business account allows knowing what people think about your business to be easier for buyers and sellers both to know each other better. And one can get potential customers through it.
3. Ask for Feedback
Another best way to increase the reviews is to ask the customers to give valuable feedback on your website, Google, or any social media platform. It will be easier to link their website with a Google business account to get more reviews. After the customer deals with you, ask for feedback or ask it in emails.
Final Impressions
The truth is that today consumers trust other customers more than anything else, so Google My Business accounts all the opportunity to grow your business online. It's not only scoped to promote the business here but also to be known to all the other online platforms at one time. So be prepared to use your Google My Business account actively and adequately so you can get all the benefits of it.
You may also like
About Author
Kushbu is the founder of Contentforyou.in. She is a professional content writer and blogger. With more than 5 years experience in this field, she is expert in Articles & Blogs, Website Content Writing, Branding Content, Technical Writing, Copywriting and Academic Writing Services.

Instagram


Twitter


Youtube


Pinterest


Linkedin


Tumblr


Reddit


Medium

SHARING IS CARING !