What did you last search on Google? Well, nobody wants to share their Google search history publicly, and the reasons are very justified. Why would anyone share their things publicly without any interest attached? Search history can tell the whole story about a person, which is why people keep it confidential.
But we have Google trends that give us these insights. Well, without wasting further time, let's dive into what are Google trends? Where does it come from? And how to use it for marketing and innovation?
What are Google Trends?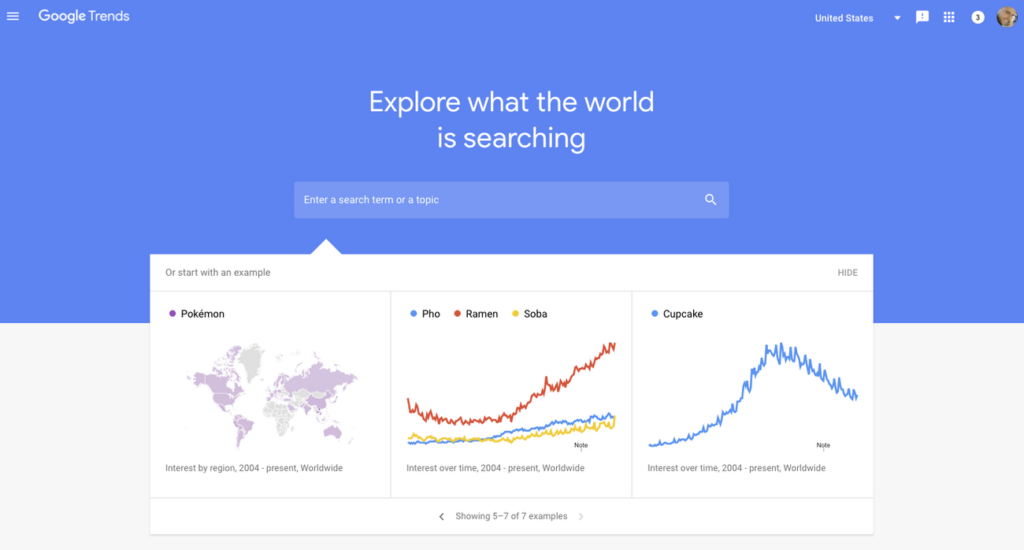 It is a website launched by Google in 2006 which analyzes the popularity of top search queries searched across the globe. Google trends homepage reflects "Explore what the world is searching," which correctly defines its motive.
Google trends visualize trending topics, search terms, and news on Google. It provides real-time data and the current trending topics from the past seven days, which are helpful for businesses in planning their marketing strategies.
Where Does the Data on Google Trends Come from?
This is an obvious question whenever someone here about Google trends. Google analyzes search histories based on geographical locations, and all the information is categorized into multiple trending topics. The data on Google trends are normalized to ensure the region with the highest search ranks does not top the list consistently.
Google normalizes the data by dividing the data points and total searches based on geographical location and time range used to compare relative property.
Based on the proportions of searched, these data are marked on the scale of 0 to 100. Also, Real-Time Trends Reports are provided by Google, which shows the number of Google News articles written per hour.
How to Use Google Trends for Marketing?
This is the main point of discussion here. Business marketers can use Google trends, but how? There are certain stages through which a business has to go through. Following is the list of specific methods in which Google trends can be used for marketing.
Use Google Trends for Market Research
Are you planning to launch a new product in a specified region? Google trends help you decide your new products' marketing strategy by showing the ranks of products on their score table, which they analyze from search history in a particular region.
The Google trends give you the freedom to customize your search. For instance, you can see an analysis of a metropolitan city and narrow down the search to a particular locality of that city. The data on this website changes if you select to see the history of the last seven days. It shows data day-wise.
Try Google trends for Newsjacking
If you use Newsjacking to generate content, then Google trends are the perfect companion for you and your business. You should take a Google Trends subscription so that you can get the top, most, and all the search trends weekly, daily, or in real-time.
Clout Google Trends for Keyword Research
It is very difficult for anyone to keep on with the trending keywords. There are many keywords research tools that give many search volumes. It is challenging to find out suitable keywords from the list.
Google trends categorize directional data, which you can pair with your monthly search volumes. It also gives suggestions about keywords on the rise, and you can consider these keywords in your current list.
Also, you can check the related queries section to check what people are searching for. In this way, you will find different terms in the associated queries section and compare them for the best of your benefit.
Innovate Your Products with the Google Trends
The sale of a particular product depends on whether the customers like it or not. Through Google Trends, you can find out what styles, colors, or materials are trending for your product.
Based on these suggestions, you can innovate your products quickly to increase their sales. The search list includes Breakout topics that have grown more than 5000% in a specified period. These significant trends help you to improve your business strategies.
Employ Google Trends to Cluster Your Topics
Google trends simplify your topic cluster strategy. With this platform's feature, you can simply write your search topics. Google will give you related topics with your search terms. In this way, your search for your topics gets more exposure, and you get more information.
After selecting the terms, the option to choose categories comes up. This will further refine your search query, and you can choose one category, and all the other searches will be removed automatically. Only searches related to the high-level category will be left, which will help you do your task.
Conclusion
All set for exploring? Dive into Google trends and start exploring the latest trends to improve your business strategies and expand your business very well. The above-listed strategies for marketing your product with the help of Google trends can help a business plan its marketing strategies.