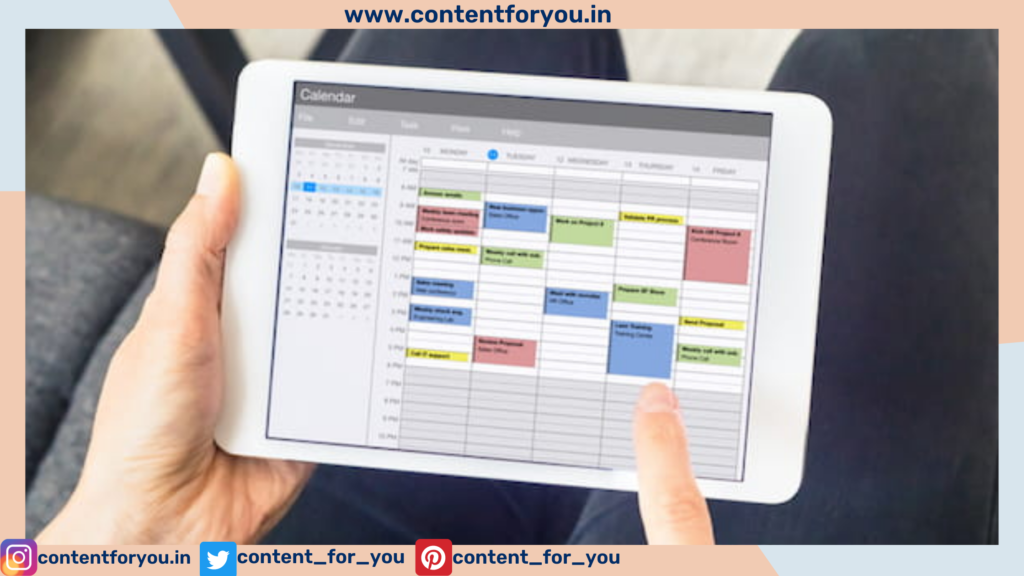 It is essential to plan everything. Whether business, studies, weddings, any function, or social media marketing, everything needs to be planned well to make it successful. Social media marketing is the most diverse form of marketing right now. Most marketers recognize that social media marketing plays an essential role in a company's marketing strategy.
There are many social media platforms available where marketing is done, which is why one needs to keep the marketing tools organized. The tools help you plan your sharing pattern on various social media platforms, which profoundly affect your marketing strategy. Let us dive into our main topic, which will help you choose the best tool to keep your work organized.
Google Drive-
Well, this platform needs no introduction. Google offers its platform for social media marketers, which helps them to stay organized and helps them to build out an efficient content calendar. The features of this platform are designed so that all things can be kept in one place without any hindrance. Also, users get one more benefit where they can use different platforms of Google simultaneously, which gives the users liberty to accommodate all the tasks on one platform. The services of Google drive are entirely free for personal use, but the workspace plan starts at $6 per month.
Trello is a task management and content calendar available for free for personal use, and it charges $5 per month for its standard plan. It is an effective tool for team collaboration that offers a full calendar view, making it easier for social media managers to manage the release time of content. Trello offers flexible management cards and customizable lists and maps, which helps a user plan their calendars, to-do lists, unique sore ideas, and plan a social media campaign.
The best feature of this tool is that a social media marketing team customize it according to their need. For example, they can organize a week's plan and campaign on various platforms or post their idea about the same week in one place. This time of a week can also be changed to a month or days as per the need of the team.
HubSpot's Downloadable Template for Excel-
This is a completely free platform that is user-friendly as it is based on the idea of an Excel sheet that every professional person uses at some point in time. The Excel can be customized on this platform as per the team's planning and work priorities. Marketers can use this tool to post their marketing content on social media platforms, or planning their next marketing strategy, or store their brainstorming ideas.
Using the monthly social media content calendar tab, users can plan their marketing strategy for the whole month and keep an eye on the deadlines and posts. This platform has one Content Repository Tab where users can keep their content ready, which can be posted anytime, and this also helps in keeping track of a response to a particular post.
This tool helps its users in content Planning, Creation, Publishing, and managing Social Media Calendars. Its services are free for the first 15 days, and the base plan is $25 per month for 2 users and 10 accounts if you choose the annual agreement. Loomly is known for offering its services beyond content scheduling and management. The features of this platform help its user by providing inspiration and direction in creating their content. Further management of content assets, scheduling posts, viewing them as a list or a calendar, and making an analysis of your current content vs. what content you need to post.
This tool is a complete package for content creators which helps them at every stage of perfect marketing content creation. Loomly's most vigorous feature is that it offers a team collaboration where they can share ideas, see sample blogs, and submit mock-ups. This feature creates a healthy environment for the content creators in planning their social media marketing strategy.
This tool helps content creators manage their content, task, and asset organization, and its services are offered $7.99 a month, a personal plan. The basic plan is completely free. It is a note-taking app that marketers can use to keep track of all the details of a social media campaign. Social media marketers can save links of essential information for future use as this app has a Web Clipper Extension for Chrome. This app is suitable for social media marketers as it can save valuable images so that they can be posted on any social media platform, which helps in straight social media marketing.
The tools mentioned above are unique, and every tool has some of the other benefits. The one everyday use that all the tools provide is that social media managers of any company can plan their marketing strategy very quickly and keep the entire information safe in one place. This enables them to manage their social media marketing and campaigns comfortably.